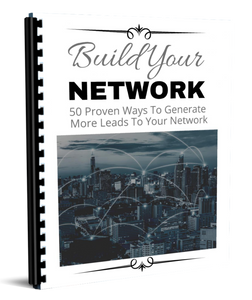 What is the most important part of any business?
Customers.
But before you can even get paying customers, you need to first build your leads so that you can convert those leads to customers.
Whether you know it or not, your list is a lifeline in your business in many ways.
It is your asset.
What Type Of Network Are You Building?
Building a list of people you could never convert into customers wouldn't do you a bit of good.
You probably know what a target market is, and you know who your target market is. 
You've studied them, and you know what they're looking for.
You know the type of people you could convert to customers if they had the chance to get to know what your business is all about and see what you have to offer them.
That's the type of people you're looking for.
That's the kind of network you need to build to be sure your business is successful. 
Planting The Seeds For Growth
Maybe your business is doing fine, and you're thinking, "Why should I take the time to do all that work and build a list of contacts?"  The answer is quite simple.
You don't.
Not if you never want your business to grow.
Every time you contact a new potential customer, you plant a seed.  Nurture that seed and it will grow.
As that seed grows, it will blossom into a thriving business relationship, but it all starts with the seed.  It all starts with that all-important initial contact. 
The Benefits Of Having Your Own Network
Whether you're an established business or a business just starting out, building a solid network of contacts can be beneficial to your business in many ways.  Here are a few benefits of growing your own network:
Profits. Money is always a great motivator.  When you take the time to develop your own leads and contacts and build your own network, your profits are increased.
Business Growth.

 

No business can be successful if it doesn't grow.  Increasing your network is imperative for your business to succeed. 
Makes Business Growth Less Stressful.

 

Growing a business the old fashioned way can take a lot of time.  It can be a lot of stress and hard work.  Having your own network can take some of the stress off of growing your business.
Customers that are More Likely to Buy.

 

When your network grows from within, the people that join your network are more likely to become customers than those that are "cold leads." 
Building Relationships.

 

Business relationships are imperative to any business.  Businesses are built on good solid relationships.  You have relationships with your suppliers, bankers, and even your competition.   Having a good solid relationship with your customers, however, is what keeps them coming back to you. 
When you grow a strong network of contacts, it increases your chances of beginning a relationship with that person.
Remember, they're all potential customers, and when these potential customers become customers, you have the opportunity to build long-term business relationships with them.  If they like what you give them, they'll return to you the next time they need something you have to offer. 
As you can see, generating leads and building a network is important.  You want your business to grow, and you're ready to dig right in and generate those leads. 
How Do You Build Your Network?
How do you build that all-important network?
There is no set way to do it.  No one can give you a magic potion that will work instantaneously to grow your network. 
There are a lot of ways to do it, but not every way works for every business.
It may require a bit of "trial and error" on your part.
You won't find just one way that works for you.
You need to experiment with many different ways and find the combination of ways that work for you. 
I wrote a book that shares how to build your network, starting today...
Whether you're an online marketer, network marketer, speaker, coach or business owner, building your network is one of the most important parts of your business.

Here's what you'll discover in Build Your Network:
Discover 70 different ways to build your network and leads.


How to use social media sites like Facebook to generate leads.


How to use video to build your leads.


How giving away free things can help you build your network.


Why creating multiple lead generation campaigns will increase your chances of building your leads.


How to make potential customers contact YOU instead of you contacting them.


How to answer questions will help you build your brand and be that go-to person in your industry.


The all-important "call-to-action" and how to use it in your messages.


...and much, much more!