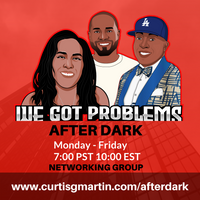 We Got Problems After Dark
We Got Problems After Dark Networking Group offers a combination of building rapport, brainstorming, peer accountability, coaching, mentoring education, and quality support in a group setting to increase lasting relationships and hone your business and personal skills.
Join Now
FINANCIAL WEALTH SYSTEMS
Curtis is an Award-Winning Author and personal development coach. In addition, he has been involved with personal development for over ten years.
He is a Certified Extreme Execution Coach, an exclusive training designed by The Hip Hop Preacher Dr. Eric Thomas and his team. This certification allows Curtis to coach his clients, giving them an individual experience, using the Flight Assessment to identify their talents and areas where they're not so talented. Consequently, the entrepreneurs, business professionals, small business owners, and project teams Curtis provides coaching for are more prepared to improve productivity, enhance their leadership skills, and give more effective communication in and outside of their businesses.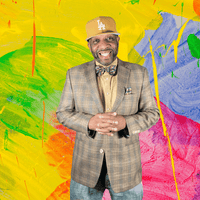 HIGH ENERGY FACILITATOR
Curtis Martin shares strategies to put you on a mission to millions. Your income will grow as you grow. As you learn the secrets successful entrepreneurs know, you will be on a path to success.
If you feel like you can never earn enough, working hard never seems to get you anywhere or you need more time and money to enjoy the simple pleasures of life, you are not alone.
The 10 Strategies to Take Action will see you learning secrets successful entrepreneurs know, including how they optimize their productivity and free up their time. Learn how to make your money work for you instead of you always working for your money, by investing it in your goals and dreams.
If you need a high energy facilitator, Curtis love energizing attendees with actionable ideas that lead to personal growth. Whether it's a small training, an intimate setting or a multi-day retreat it get's Curtis's full attention.
Curtis G Martin
Book Now
WE GOT SOLUTIONS
WE GOT PROBLEMS
Welcome to the we got problems podcast, with co-host Curtis G Martin, Rhonda L Brown, and Caliph Johnson Sr, the one and only podcast where solutions get discussed to our community's everyday troubles. Each week, you will hear mind-blowing conversations and actionable tips and strategies that you can implement in your daily life to become more effective. We Got Problems, and We Got Solutions.
When it comes to credit, Curtis is the real deal. He helped me to get my score over 700. I appreciate your help. Thanks

Kevin G.
It is my honor and privilege to have this opportunity to introduce you to Curtis G Martin. His dedication to understanding the mindset of an entrepreneur has everything to do with routines, planning, accountability and taken action.

Raymond Aaron
Curtis  knows there is no such thing as excuses. His determination to teach others the cost of success is a continuous effort, whether you win or fail, you have to learn from it and move forward. 

Steve G.
Curtis is a knowledgeable business owner and entrepreneur. He believes in mentorship and teaching. His entrepreneurial skills and mastermind groups lead to financial stability. He is definitely a leader.

Collie Phillips
Location
Contact Us
4659 W Slauson Ave A201
Los Angeles, CA
Bus (800) 781-9134
Text (213) 433-8518
Email info@curtisgmartin.com