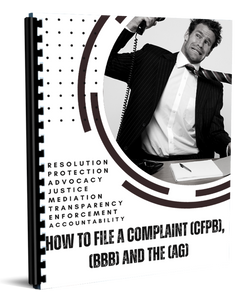 Mastering Complaint Filing: Your Guide to Effectively Lodge Complaints with CFPB, BBB, and AG" eBook!
Are you tired of unsatisfactory services and feeling unheard? Ready to take action and make your voice count? Discover the ultimate solution to your concerns with our comprehensive eBook, "Mastering Complaint Filing.
Uncover the Power of Complaint Filing! Are disappointing customer experiences leaving you frustrated? This eBook empowers you with knowledge and step-by-step guidance to master complaint filing. Say goodbye to frustration and hello to effective action!
What's Inside:
A Clear Roadmap: Effortlessly navigate the complaint filing process with our easy-to-follow guide.

CFPB Decoded: Learn how to file a complaint with the Consumer Financial Protection Bureau (CFPB) to protect your financial rights.

BBB Success Strategy: Maximize your success when filing a complaint with the Better Business Bureau (BBB) to secure your desired resolution.

AG Empowerment: Understand how to approach your state's Attorney General (AG) and drive meaningful change.
Why Choose "Mastering Complaint Filing"?
 ✅ Comprehensive Guide: All you need to know about filing complaints with CFPB, BBB, and AG in one resource. 
✅ Empower Yourself: Advocate for your rights with confidence. 
✅ Expert Insights: Benefit from professional tips and strategies. 
✅ Time-Saving: Follow proven methods for effective complaint submission. 
✅ Empathy in Action: Make companies and institutions listen to your voice.
Your Voice Matters – Act Now! Don't let dissatisfaction linger. Take charge of your experiences and transform them into catalysts for change. Get your copy of "Mastering Complaint Filing" today and become a force to be reckoned with!
Ready to Get Started? 
Click "Add to Cart" and embark on your journey to effective complaint filing. Your satisfaction is our priority – empower yourself today!
[Disclaimer: This eBook is intended for informational purposes only and does not constitute legal advice.]