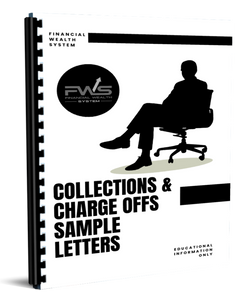 Welcome to the ultimate guide for reclaiming your financial freedom and improving your credit score with the comprehensive "Credit Repair Mastery: Unlocking Financial Freedom" eBook!
Are you tired of dealing with inaccurate information on your credit report? Do confusing letters from creditors and collection agencies leave you feeling helpless? Look no further – this eBook is your step-by-step roadmap to overcome credit challenges easily.
What's Inside:
📚 Easy-to-understand strategies: Say goodbye to complex financial jargon. We've transformed intricate credit repair techniques into clear and straightforward steps, making it easy for you to take charge of your credit journey.
📚 Sample Letter Templates: No more staring at a blank page! Our carefully crafted sample letters are tailor-made to address different credit situations. You'll confidently communicate with creditors and agencies, ensuring your voice is heard.
📚 Proven Success Path: Navigate the credit repair landscape with confidence. From deciphering responses to crafting effective follow-up letters, we've covered you at every stage of the process.
📚 Leverage Legal Insights: Uncover strategies to identify misleading claims and tactics used by creditors. You'll learn how to handle stall tactics and respond assertively, armed with knowledge of your rights.
📚 Boost Your Credit Score: Rebuild your credit reputation and improve your financial standing. Take action, get results, and watch your credit score rise, opening doors to better opportunities.
Why Choose "Credit Repair Mastery"?

⭐ Clear Guidance: We've distilled intricate concepts into actionable steps, ensuring you understand each strategy fully.
⭐ Empowerment: Regain control of your financial future and confidently communicate with creditors.
⭐ Proven Methods: These techniques are based on real-world success stories, ensuring you're equipped with strategies that work.
⭐ Save Time: No need to scour the internet for scattered advice. Everything you need is conveniently packed into this comprehensive eBook.
Take the first step towards financial freedom. Now, grab your copy of "Credit Repair Mastery: Unlocking Financial Freedom" and unlock the doors to a brighter financial future. Your journey to better credit starts here!
Note: This eBook is provided in English to guide and support you through your credit repair journey.