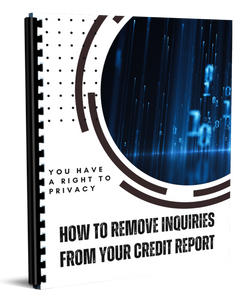 Are you frustrated by those stubborn hard inquiries that keep dragging down your credit score? If so, you're not alone; we have the solution for you!
Introducing our Comprehensive Inquiry Removal Guide that will lead you step-by-step through understanding and removing those pesky hard inquiries from your credit report, boosting your credit score in no time!
Why Remove Hard Inquiries?
Hard inquiries, or "hard pulls," can cause a dip in your credit score, making it more difficult for you to obtain the credit you need. It contributes to about 10% of your overall credit score calculation and can be especially harmful if you plan to apply for a major loan like a mortgage soon.
What's Inside Our Guide?
The Hard Truth About Hard Inquiries

: Discover what hard inquiries are and how they impact your credit score. We'll also teach you how to avoid unnecessary damage to your credit score.

Understanding Soft Inquiries

: Learn about "soft pulls" that do not impact your credit score, enabling you to make informed decisions.

Unveiling the Inquiry Removal Process

: Gain access to our detailed process to remove hard inquiries effectively, including crafting compelling Inquiry Removal Letters.

FWS Inquiry Removal Letters

: Get templates for three different Inquiry Removal Letters tailored to different scenarios, and make the process seamless.
What Will You Achieve?
Better Credit Opportunities

: With a higher credit score, access to loans and credit cards becomes more accessible and more favorable.

Peace of Mind

: Protect your credit report with fraud alerts triggered during the inquiry removal process, ensuring your personal information is safe.
Unlock Your Potential Now!
Take control of your financial future and watch your credit score soar! Our comprehensive guide is tailored to assist you, whether you're a seasoned financial expert or new to understanding your credit report.
We're offering this invaluable guide at an exclusive discount for a limited time. Get your copy and start improving your credit score today!
Our dedicated support team is just a click away if you have any questions.

Act now and take advantage of this special offer to empower yourself with the knowledge and tools to remove unwanted hard inquiries from your credit report. Don't let them hold you back any longer!